January 2001
Ethical code for activity in space
CALL FOR PERSONAL INVOLVEMENT
Dear citizen of the world,
Over the last 300,000 years, humans have settled in nearly every corner of the earth, but we have mostly done so without establishing an ethical code under which to live. The results of this failure are blatant for all to see.
To ensure that we behave differently – ethically – in outer space, I have dedicated twenty years of my life to thinking, deliberating, and sharing and exchanging thoughts and ideas with colleagues, and I have prepared a short, clear document, presenting eight central mandates, as follows: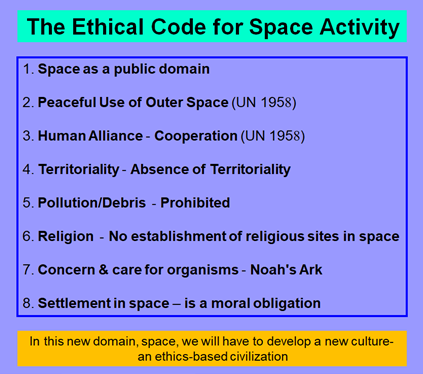 I have also published two articles on the subject, one as opinion and the other as a regular article. See:
Sever, Z. 2020. An ethical code for living in space. Room Space Journal, Opinion,
Spring, Issue 23, 76-79.
https://room.eu.com/article/an-ethical-code-for-living-in-space
Sever, Z. 2020. The ethical code for space activity. Space Research Today, Vol. 208:
44-48. https://doi.org/10.1016/j.srt.2020.07.012
To bridge between thoughts and deeds in this area, I have created a project through which to integrate the "Ethical Code for Activity in Space" into the UN General Assembly's resolutions.
https://www.ethicscode4space.net/
Generally speaking, we shall seek to promote reception of the ethical code for action in space by the relevant international institutions, initially through education systems and eventually to be embraced by humanity as a whole.
I would respectfully request that you consider the possibility of becoming an ambassador, partner and/or activist, or initiator in this project that is so important for our future, and the future of our children and grandchildren.
I thank you in advance for any feedback or advice you can offer.
Sincerely,
Zvi Sever, Ph.D.
Tel Aviv, Israel
Formerly, Associate Professor at the University of Indianapolis, Indiana, USA.
(2003-2020).